If you're here from
My Little Life
for 5Q Friday, welcome! Glad you're here. Feel free to check things out, but be forewarned, this is a new one, so not much is going on just yet. I'll get there someday... Anyway, on to my answers...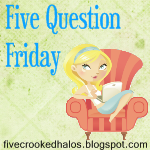 1. What do you do when you are really upset to calm yourself down? Usually I would say have a good cry. That's what I've been known to do in the past... But last week I got a visit from my sister, my little sister (whose birthday also happens to be today :-) ). We haven't spoken in a while for some personal reasons. I love her to death, but the relationship just isn't healthy right now, and I can't take the drama. Anywho, the visit really upset me and I found myself at the gym. I pounded the treadmill and elliptical going further and faster than I've gone yet. It felt really good to put all that emotion into something! Don't get me wrong, I still went home and had a good cry, but I think there's something to this gym thing. I'll have to test my theory next time it all becomes too much. I'll let ya know...
2. Do you go all out for V-day or is it just another day? I wouldn't say I go all out, but I like to put in a little effort here and there. And it's not just about the hubby and me. I make it special for the kiddos, too. Hopefully it sets a precedence for my daughter to see she deserves a little special treatment and for my son to see he should do something nice for the ladies in his life down the road. And, who doesn't look for any excuse to show their kiddos a little extra love anyway, right?
3. Are you more or less productive when Hubs is away? Hmm... this depends. I always think I'll get so much more done without anyone there, but then when it happens, sometimes I just relish in it and take some "me time" for a nap or to just sit. Uninterrupted. For five minutes. But, yes, other time I am super motivated and catch up on things. I guess it just depends on priorities for the day... Although, I must say, the Hubs is the man. He does a lot of the household chores... and yes, that means laundry and bathroom detail. So a lot of the time I'm more motivated when he's home, either because he telling me what to do, lol, or I feel obligated to do a little more just out of pure guilt. Eh, I've got it pretty good with this one ;-)
4. What is your favorite time of day and why? 8pm. The kids' bed time. Don't get me wrong, I love any time I spend with my kids and family. Dinner talk. Family tv time. All that good stuff. But I'll tell ya, there's gold in putting my kids to bed.
Sitting for a few quiet moments talking to my daughter, telling her how much I love her, no matter what. Answering random questions her little mind comes up with with no provocation. I tell ya, that girl's a thinker. She's gonna go places. She's so inquisitive and has such a big heart. I just love her to pieces.
And that boy of mine. Such a sweetie. Every night, he has his routine (he's his father made over, that's for sure). We start with me. I pick him up and he hugs me with his head on my left shoulder. Then I get a kiss, an eskimo kiss, butterfly kisses, two kisses on my forehead, a hug to the right shoulder, a hug to the left shoulder and another kiss. Then I get me some "ears". And it's off to his dad to do the whole routine over again. Then he slips me one more little kiss before Daddy puts him in bed. Where he blows each of us a kiss as we walk out the door. This has been the routine for I don't know, at least a year now... although the forhead kisses were only worked in a few months ago. Not sure where he picked that one up, but he liked it and it stuck. The smiles and giggles melt my heart each night.
I just wonder how long it will last. If we'll be doing this 2 years from now, or even 6 months. When will he start to grow out of it? When will she stop coming to me with all of her questions? These are the moments I treasure. This is my truly happy time of each day.
5. What is your go to karaoke song? HA! That's funny right there...
This post carries a disclosure Level of 0. Please see my disclosure page for more details.