Good morning all. I hope your Friday has started off on the right foot. Mine's not looking too shabby right now. We have no
big
plans for the day. Just the grocery and the gym. Real exciting stuff, right?
Oh! I guess one member of our household is up for a little excitement today. Our dog Potter is being neutered. Poor fella. A few months back he started peeing in the house for no reason. He'd go to the door to go out. He'd go out and do his business (or so we thought) then he'd come in and head straight for the hallway to tinkle on the wall. Talk about infuriating! Not to mention GROSS!
We've cleaned the carpets I can't tell you how many times. We've sprayed, we've tried internet tricks. We've had him looked at wondering if he had bladder issues. To no avail. Nothing seems to deter him. So, we're hoping maybe it's just his male instinct to mark and that neutering him will fix the problem. If it's not, then I don't know what to do. This busy Mama Bird doesn't have the patience for much more...
Anyway, on to the real reason you stopped by today,
My Little Life's
Five Question Friday! Thanks for coming by. It's always a treat to have visitors :-)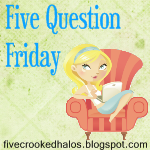 1.
Groceries are high right now what is easiest way you have found to cut back? Though I've been slacking on it, couponing and matching my coupons to the ads. We also try to meal plan around what's on sale and just get what we need for the week. It's nice to stock the shelves, but keeping to the meal plan for the week does seem to cut our spending back quite a bit. We also buy Target's brand on a lot of things which really helps. Granted, there are some things you just can't do that with, but we've found a lot of their things are just as good as what we've used before.
2.
What are the top 3 things on your "bucket list"? Hmm... this is a super tough one. There are so many things on my "bucket list" (which are really just floating around in my noggin'- I should probably write them down. hmm...). Anyway, I don't know what would be the top things. I know I want the four of us to go to Disney while the kids are still small (my hubby missed their first trip last year b/c of work), but that's a sooner rather than before I die kind of thing.
I guess I'd like to take my family to Austria where my Mama and Nana were born. My Nana took me the summer after 5th grade and it was just beautiful. I'd love to go as an adult and share it with my family.
Oh, I don't know if it's a top thing but I have always said I wanted to walk on hot coals before I died. I think I saw it many moons ago as a challenge on Road Rules or The Real World or something silly like that. For whatever reason it just stuck with me as something I said I'd do someday. Weird, right?
Oh, okay, so that did remind me of two that are pretty important to me. One, I want to complete a Susan G. Komen Breast Cancer 3 Day. It's a 60 mile walk raising funds for breast cancer research. In all actuality I'd like to do it within the next 5 years, but it's definitely pretty high on the list.
And two, I'd like to participate in St. Baldrick's event. Yep, I want to get my head shaved to raise funds for childhood cancer research. I probably would have done it already, but in all honesty, my hubs isn't too happy with it. He wonders why I can't just find another way to raise money or donate. I don't know, this one just seems more fun ;-) It's a way to really connect with the kids who face the hair loss and see a little of what they go through. I can't say when for sure, but this one is definitely going to be accomplished!
3.
Would you rather give up AC or heat? Heat. Definitely heat! I can be cold. You know, because I can always put more clothes on. Blankets, etc. I cannot, I repeat, cannot be hot. There's only so many clothes you can take off before someone gets offended...
4.
What's your favorite cocktail?? I'm more of a beer or wine drinker so I'm not sure how to answer this one.
I like frozen strawberry daquiris. Does that count? Not very exciting, but hey, I enjoy them.
5.
What was your first job & how old were you? My first paying gig was as an actress in a production called the Passion Play in Gatlinburg, TN. I stayed summers with my Nana there and would be in the play 6 nights a week. I think I did it from the time I was age 9-12. I'm sure you may have guessed by the name, but it was a play of the life of Jesus Christ. Some weeks I would play the dead child he brought back to life. Some weeks I would be the lame child who could miraculously walk again. I also played the maid of Caesar. It was fun, and I enjoyed it very much. I used the money I earned there as spending money when Nana took me to Europe.
After that though, my first job was at Big Lots when I was 15.
This post carries a disclosure Level of 0. Please see my disclosure page for more details.