If you're here from
My Little Life
for 5Q Friday, welcome! Glad you're here. Feel free to check things out, but be forewarned, this is a new one, so not much is going on just yet. I'll get there someday... Anyway, on to my answers...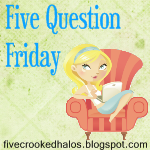 1. If you were free to just hop in the car and drive, where would you go? Or, if you could hop a plane and go anywhere, where? I'd drive to this little, backwoods, country town called Elkhorn City, KY. Why, you ask? Well, that's where my Mama is resting. She was taken unexpectedly in a car accident about six years ago (4/2/06). Thankfully we had discussed her wishes before, for no apparent reason then, and I knew she wanted to be laid to rest with her father. They're a few hours away, so we unfortunately don't get to go as often as my heart would like. I know she's always with me, but there's just something about sitting on the side of that mountain, drinking a beer, talking to her. I just really feel her presence there. It has this amazing calming effect on me. With the anniversary of the accident coming up, I am yearning to be there. So, given the chance to just jump in the car and drive, that's where I'd go...

Whew... don't mean to be a downer... hopefully we can turn this post around!

2. What's your most recently read favorite book? Easily, without a doubt, The Hunger Games. Though I read it for the first time several months ago, I actually just spent the last two days rereading it in preparation for this evening, when I will go and see the movie. Who doesn't love this book? Am I right?

But aside from that, and something comparable, Divergent by Veronica Roth, I have recently discovered a new series of another genre that I am really enjoying... the High Heels Mysteries by Gemma Halliday. They remind me Janet Evanovich's Stephanie Plum series. Maddie, the main character of the book, is a single woman, struggling to follow her passion, designing shoes. She finds herself mixed up in some strange situation which leave me laughing out loud. They're usually fun, quick reads, but I definitely recommend!

3. What's your favorite Spring Break memory? Hmm... not much of a Spring Breaker here. I'd guess spending Spring Breaks in Gatlinburg with my Papaw would have to be among my fondest Spring Break memories. Nothing specific really sticks out though. Sorry, boring answer, but it's all I've got!


4. What do you put in your child's Easter basket? Or, for those w/o kids, what was put in your childhood basket? Let's see, we usually do the usual with some various candies and what not, but seeings how we usually still have a bowl full of Halloween candy we usually try not to overdo it with all the sweet treats at Easter. We'll throw in a movie, new book, some new shades, maybe some flip flops, just some fun new little spring/summer necessities. Oh, and some sidewalk chalk, bubbles, stuff like that. A nice little mix of goodies and stuff for them to do.

5. Do you get a summer haircut? Absolutely. Well, not so much a "summer cut" just a cut once it's warm enough that I notice the hair on the back of my neck is bothering me. I have a short cut and in all honesty tend to let it go until it loses its shape and won't do anything right. But you can bet during that during the summer my hair is always looking good. I just can't stand to be hot and have the hair on the back of my neck. Drives me crazy.


Well, hope you all have a wonderful weekend!!
This post carries a disclosure Level of 0. Please see my disclosure page for more details.